Propagating lavender and enjoying one of the best dry landscaping plants at your disposal
Gardening in Murcia, how to propagate lavender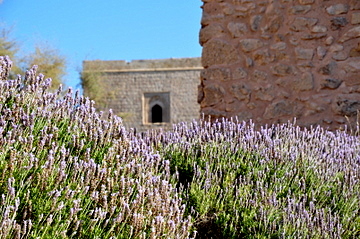 Lavender is one of the most important staples of Mediterranean gardening, the glorious vision of idyllic stone cottages drifting in an undulating sea of fragrant lavender a favourite choice for lifestyle magazines worldwide.
Whilst the hills of Southern France and the shocking red of Tuscany have long been the choice of the discerning artist, Spain is also an important lavender growing country, and here in the region of Murcia, lavender has long been grown for medicinal and herbal purposes.
Areas of north Murcia still produce lavender commercially today, and one of the biggest disappointments weve ever experienced since moving here occurred one day in the northern province of Moratalla when out walking in the woodland areas which surround the town.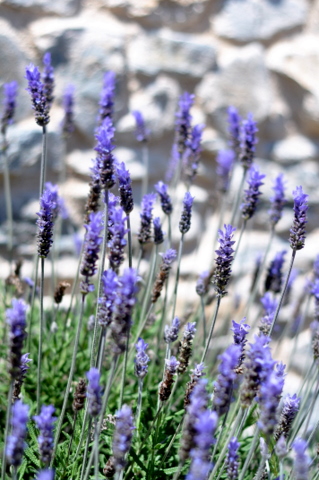 We walked around a corner to find a shock of vibrant purple lavender, a commercial crop for the cosmetics industry we were later told, and dancing above it, a sea of tiny blue butterflies , darting and quivering in the sunlight, with the backdrop of pine forests stretching away into the distance.
The anguish of not having a camera at that moment to capture what was almost an ethereal experience was so acute, but what a memory and what an unexpected pleasure to find lavender still being produced on that scale today.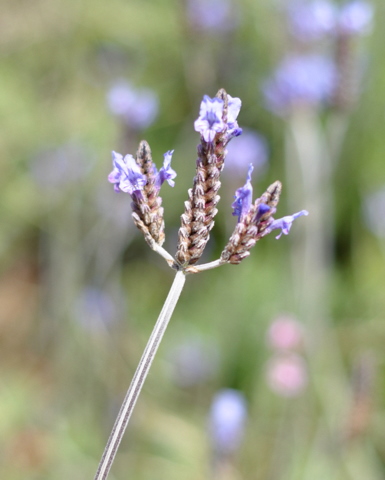 Distillation was an important industry in places like Caravaca, and it was interesting to see a still being pulled along in the fiestas de primavera procession in Murcia this spring, but the good news is that you can still buy genuine artesan lavender products at the better quality artesan markets across the region of Murcia.
Lavender thrives in this climate, and grows wild in the rambla near to our home, this photo on the left showing the extraordinary spiral of the wild lavender, as well as beside every ruined cottage which litters the nearby hills. Its an infinitely practical plant for this climate, requiring virtually no summer watering and available in a multitude of options which can give deep vibrant colour interest, or cover large patches of dry landscape gardening, just requiring a severe haircut once a year to keep it under control.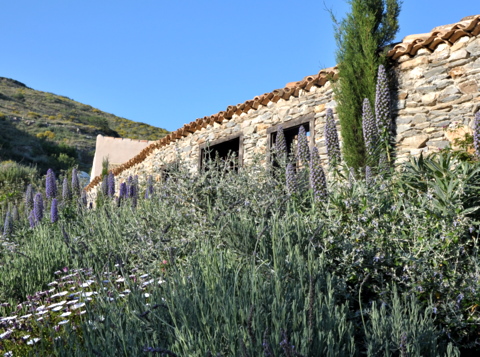 We use it extensively to fill large spaces in areas which are not irrigated and it rewards us with attractive colour, a calming smell, the drone of bees and even scents the cats with a delicate hint of lavender, creating shaded clumps which offer welcome sleeping spots for them in the heat of summer.
Its also extremely easy to propagate, and grows very rapidly, a tiny cutting will be a rampant, flowering mound within a year.
We have clumps which are now more than 2 metres across, which were a tiny scrap liberated from a council roundabout just 2 years ago.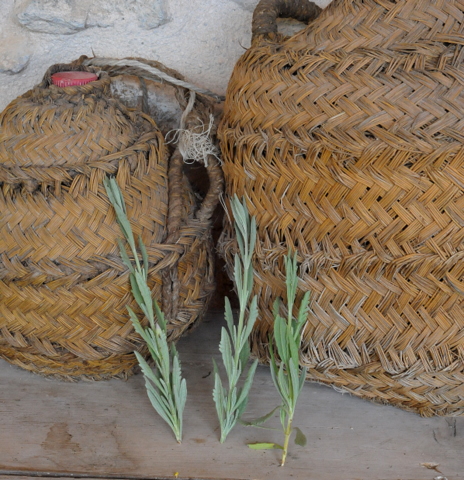 Start off with pieces about 15cm long, which have a greenwood tip, soft and bendy, turning into softwood below, the softwood being slightly harder, yet still very fresh growth, cut from the plant with the cut just below the bottom set of leaves.
Strip off all the lower leaves, leaving the greenwood tip and the last set of leaves which are on the softwood stem, before the stem becomes bendy and turns to greenwood.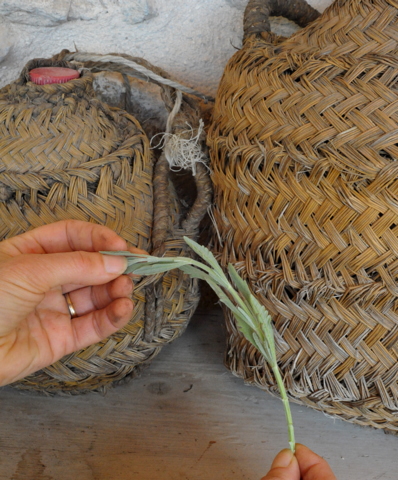 The green wood tip can be pinched out at this point, which should leave a stem with 2 sets of leaves at the top, or you can leave the tip on and pinch it out later if the tip wilts .Some types of lavender are more robust and the tip can remain in place, but others, such as the French lavenders ( delicate, feathery leaves) are more difficult to propagate and it is easier to pinch out the tips on these as they wilt at the slightest excuse. Its very soon apparent if the tip needs to be removed, and dont worry about doing it, as whilst the remaining cutting looks a bit tragic, it roots very quickly and starts to put on new growth.
Once the cuttings are prepared, dip the bottom of the stem in water, dust the bottom with hormone rooting powder and pot into damp compost, ensuring that the cutting is buried to just below the first set of leaves.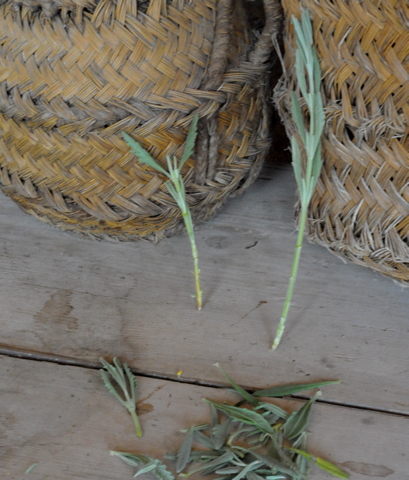 We then put sticks around the cuttings to ensure that the leaves are kept dry and cover with a plastic bag to minimize evaporation.
The bag is usually on for around 10 days, within which time it is very obvious if the cuttings are going to take or not, and if the leaves show any sign of rot, the bag comes straight off, along with the damaged leaves.
Great care needs to be taken when treating cuttings in this climate as cuttings placed carelessly in the sunlight can cook inside their plastic bags, so we always make sure there is a little hole in the bag and place in a light position, but out of direct sunlight.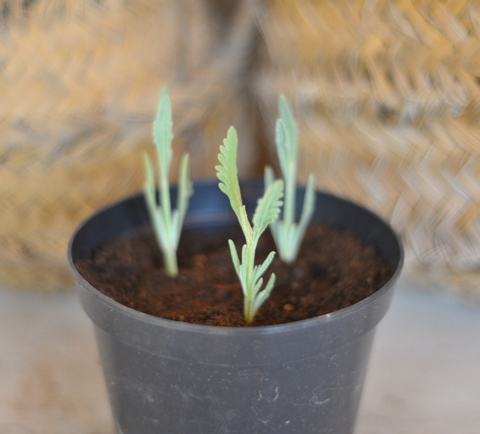 We also pot 3 cuttings per pot, and take great care not to wet the compost too much, as lavender is prone to rotting off..
If one cutting per pot makes it through to adulthood, we're very happy, and if all 3 take, well, they can always be potted on once the roots are established, although lavender doesnt seem to be too happy being moved, so we dont stress it more than necessary.
Cuttings taken in May/June can be planted out in December, in the middle of the rainy season, and will flower in their first spring, then rampage into an enormous plant by the following year.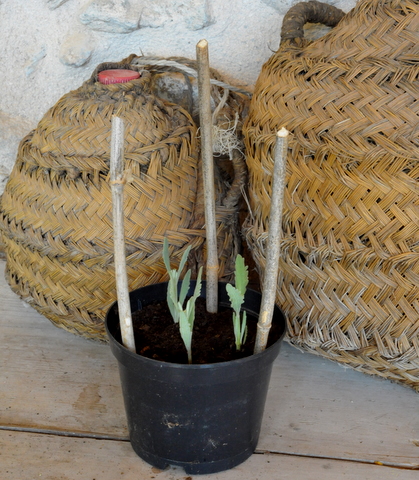 We usually cut back hard every other year, and trim lightly to shape in the first year and also cut back after the first spring flowering to get a second flush before the heat kicks in.
And the best thing about lavender is that goats and sheep wont eat it, and even the chickens wont cross a barrier of lavender, so it 's an excellent way of keeping those destructor chickens out of a garden without making the place look like a concentration camp
If youve got a dry community garden, take lavender cuttings by the dozen, and choose the varieties which grow on council roundabouts, as theyre the most tolerant of the regional climate, fill enormous spaces in no time at all, and make a perfect backdrop to show off other Mediterranean plants.
It really is one of the gardeners best friends.
article_detail
article_detail
Contact Murcia Today: Editorial 966 260 896 / Office 968 018 268