The Vía Crucis route in La Pinilla, Mazarron
El Calvario de La Pinilla
La Pinilla is a hamlet located midway between Las Palas and the main road between Mazarrón and Alhama de Murcia, and although nowadays it is a sleepy little village it has a surprisingly interesting history.
One of the features of the village of La Pinilla, which is within the boundaries of the municipality of Fuente Álamo although it is closer to Mazarrón, is the walk along a charming "Vía Crucis" route, outlining the story of the last days of Christ on a route which is little known outside the village community.
On a hilltop to the south of the village stands a white dome, visible from the road. It looks a little like a mosque tucked amongst the trees on the hillside, but driving behind the hunters' bar in the main street then left, there is a track leading up the hillside. This lasts for around a kilometre from the bottom of the track: first the road is open, then as it starts to climb trees line it.
The Stations of the Cross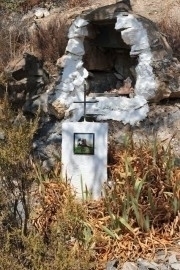 Set up alongside the road are the Stations of the Cross, some damaged by time but each representing a stage in the Passion of Christ:
Jesus is condemned to death
Jesus accepts the burden of the cross
Jesus falls for the first time
Jesus meets his mother, Mary
Simon helps Jesus to shoulder his burden
The feet of Jesus are washed
Jesus falls for the second time
Jesus urges the daughters of Jerusalemnot to cry for him
Jesus falls for the third time
Jesus is stripped of his garments
Jesus is nailed to the cross
Jesus dies on the cross
Jesus in the arms of his mother
Jesus in the tomb
Jesus arisen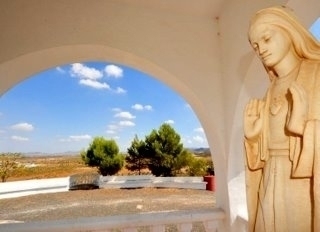 At the top, on the Cumbre del Monte de Los Cabecicos, is the Calvary and the small domed chapel with a figure of the Virgin inside, but more eye-catching still are the stunning views out across the surrounding countryside, with the Sierras of Carrascoy and Algarrobo as a backdrop.
During the winter the road can become rutted by rain but by spring it is levelled, ready for the annual Romería at the beginning of May in which the villagers carry the figure of la Virgen de Fátima from the church in the village to the top of the hill. The structure which is here at the moment dates from 1992 and was built to replace a simple wooden cross which was destroyed during the Civil War.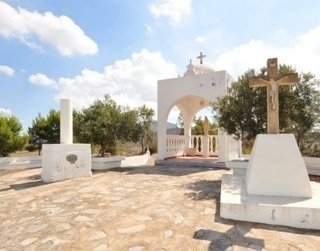 The walk is very close to the developments or resorts of Camposol, Mazarrón Country Club and Condado de Alhama, reached by car in just a few minutes. And once your walk is over, the bar down in the village sells drinks and tapas!
Location
article_detail
article_detail
Contact Murcia Today: Editorial 966 260 896 / Office 968 018 268