The oldest tree in the region of Murcia, the Olivera Gorda in Ricote

Over a thousand years old, many legends are attached to this monumental tree
The Murcia region is full of unknown treasures, one of which is believed to be the oldest living tree in the whole of the region, the Olivera Gorda in Ricote.

This monumental olive tree is said to be 1400 years old and has witnessed the changing face of the region from the time when it was ruled by the Moorish tribes from Africa, through the Christian Reconquist when Medieval Murcia was a border area between the last Kingdom of the Nazrid Dynasty in Granada and the powerful families from northern Spain who reconquered southern Spain and finally united it under the Catholic banner, through the years of plague and pestilence, the boom years when food was plentiful and the Civil War, as well as the expansion of modern Murcia.

It's difficult to date exactly, but is believed to have been planted during the early years of occupancy by the Moors when the Ricote valley was a lush agricultural area inhabited by the invaders from Africa, who remained in control of this whole area for 500 years between the 8th and 13th centuries.

The tree is located on the left side of the road joining Ojós to Ricote, in the Ricote Valley, next to a curve, approximately one kilometer before reaching Ricote and is protected from the feet and selfie-mania of walkers by a simple wooden fence.

It's a wild olive tree, (Olea europaea var. Sylvestris), which has been grafted over the centuries with other olive varieties and extensive work has been taken to protect and support it.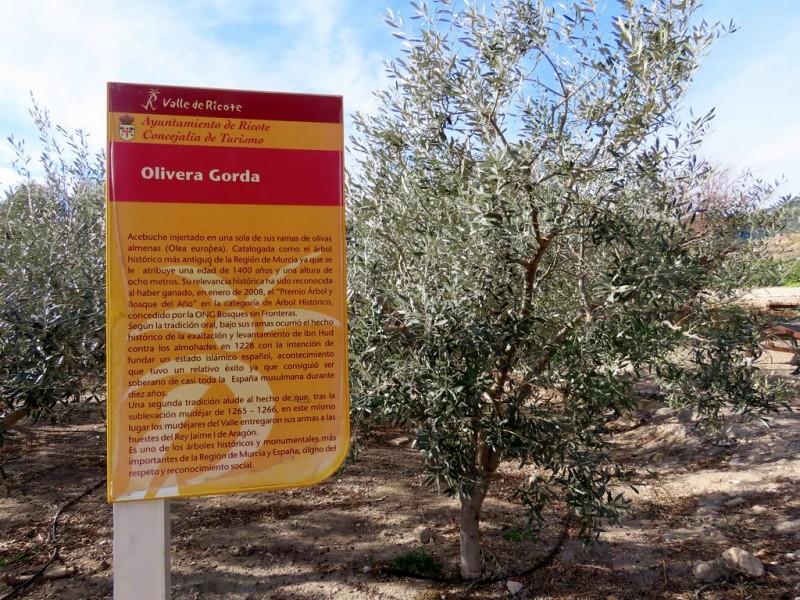 Due to its longevity it is surrounded by popular myths and legends; locals recount that King Ibn-Hud, Muslim leader of the Cora de Tudmir, was crowned here in 1228, before rising up against the Almohads and taking control of practically all of Al- Andalus.

It is also said that the Moors surrendered to the troops of the Catalan-Aragonese king Jaume I, in 1266 during the Reconquist under this tree.

The oil from this tree is donated in perpetuity by its owners to light the tabernacle lamp in the town church, due to another curious legend which relates that the inhabitants of the neighboring town of Ojós tried to remove the image of the patron of the town, San Sebastián from the local church, but when they tried to carry it from Ricote to Ojós, they were prevented from doing so when they reached the olive tree. The tree it is said, refused to let them pass as the image became so heavy that not even the donkeys could bear its weight and the residents had to take it back to Ricote!

Since then it has been an essential part of local customs and is still the in-place for country brides to be photographed!
Images: Regional parks service
article_detail
article_detail
Contact Murcia Today: Editorial 966 260 896 / Office 968 018 268