Date Published: 06/04/2020
The Barrancos de Gebas on Youtube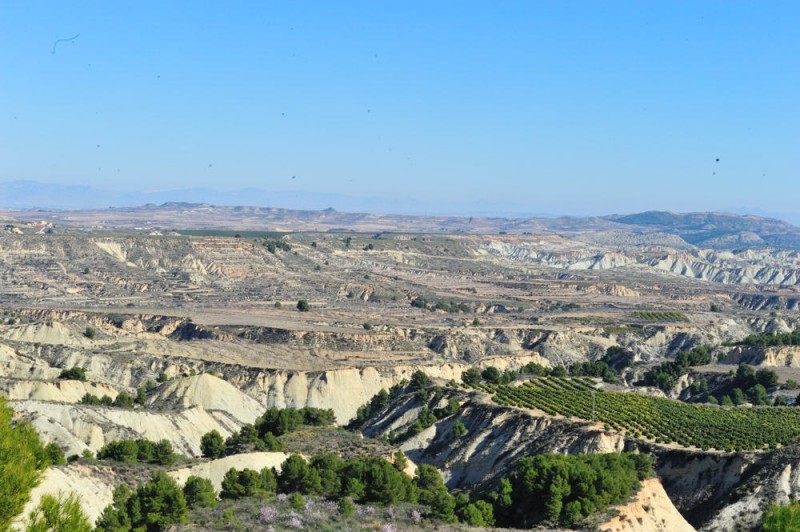 The village of Gebas is located in the Sierra Espuña and is popular with daytrippers and walkers, due partly to the cooling pine forests which surround it, but also to the lunar landscapes of the Badlands, which are popular with those seeking spectacular views, as well as with walkers.
Click here for information in English about the Barrancos
The lunar landscape of Gebas is unique within the Region of Murcia, with the undulating areas of cultivation and plunging chasms of light chalk creating a stark contrast of light and shade in the bright sunshine.
The ravine, the "Barranco de Gebas", was declared a protected natural landscape in 1995. It consists of clay and marl which have been eroded by the action of water over millions of years, and there are also halomorphic soils which are the result of the salination of the bottom of the water channels.
The relief of this zone, which occupies an area of some 2,000 hectares between the mountains of Sierra Espuña, La Muela and El Cura, is characterized by gullies, ravines and canyons, which create what is popularly known as a moonscape. Vegetation is limited to grasses and populations of gypsum vegetation, and every year clumps of thero brachypodietea appear, but in general this is a harsh habitat for plant and animal life and the fauna consists only of a few rodents and other small mammals.
Apart from its unusual geomorphology, the area also includes the Algeciras reservoir (embalse de Algeciras), which supplies water to Gebas and various other local villages.
It's a unique and exciting landscape, providing a total contrast to the green of the Sierra Espuña above it, and is well worth visiting.
Click for the Mariposa Hotel which offers well-priced lunches in beautiful surroundings from Gebas and as well as running quad tours to the badlands
Click for further information about visiting Gebas, the viewing point and Sierra Espuña.
Contact Murcia Today: Editorial 966 260 896 / Office 968 018 268