Registration open for municipal swimming, physical exercise and gymnastics courses 2023-24
Five municipal sports centres in Alhama offer a variety of healthy exercise from now until summer 2024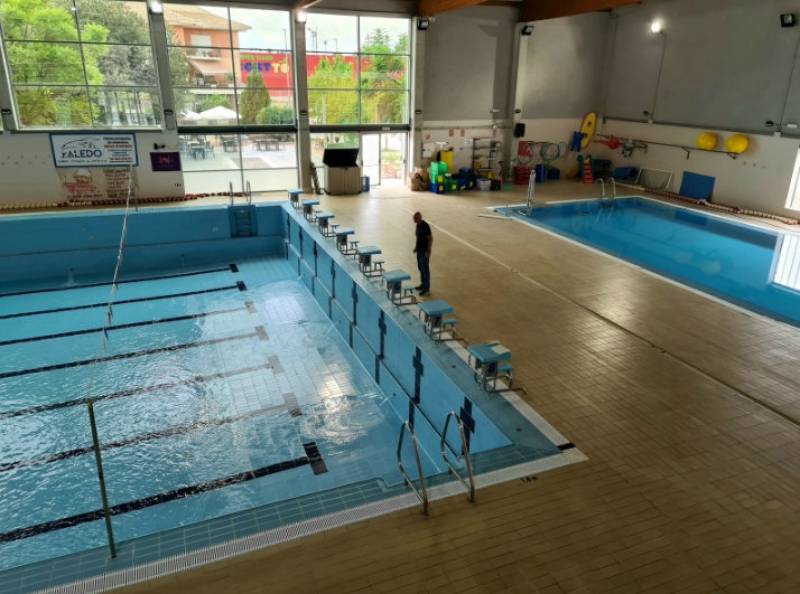 With the end of the summer comes the beginning of a new season of municipal sporting and physical exercise activities organized by the Town Hall of Alhama de Murcia, and in the 2023-24 program, as well as swimming, gymnastics, pilates, aerobics and the other activities which were available there are two new additions; Core Total and Crosstraining.
A year ago so great was the demand for these municipal services that long queues formed as people attempted to register for them, so this year three times as many staff will be on hand at the indoor pool in Calle Paraguay (telephone 968 639757) to deal with applicants.
Those renewing their registration from last year are able to do so from September 1 to September 6, while new applicants are welcomed between September 7 and 15. The office is open on weekdays from 9.00 to 14.00 and 16.00 to 20.00 and on Saturdays from 9.00 to 14.00 only.
These registrations are for the first "term" until Christmas: registration for the second and third terms will open 15 days before each begins.
Applicants for the adult courses must be at least 14 for physical exercise and 16 for gymnastics. All courses require a mínimum of 8 registrations to begin. Sessions last 50 minutes except Spinning Hit and Core Total (40 minutes).
Successful applicants will lose their places if they fail to pay or if they are absent without justification more than three times.
THERE ARE VARIOUS DISCOUNTS AVAILABLE – STAFF WILL BE ABLE TO INFORM ON REGISTRATION.
Opening times at the municipal sports facilities are as follows:
COMPLEJO GUADALENTÍN - Weekdays 8.15 to 14.45 and 15.30 to 22.30, weekends 9.00 to 22.00
PABELLÓN MUNICIPAL - Weekdays 8.30 to 14.30 and 15.30 to 22.30, weekends 9.00 to 15.00 and 16.00 to 22.00
PABELLÓN SIERRA ESPUÑA – Weekdays 16.00 to 22.30
POLIDEPORTIVO EL PRAÍCO – Weekdays 9.15 to 13.45 and 16.00 to 23.00, Saturdays 9.15 to 13.45 and 16.30 to 21.00, Sundays 9.15 to 13.45
INDOOR SWIMMING POOL – Weekdays 8.00 to 22.00, Saturdays 9.00 to 14.00
See below the different activities offered: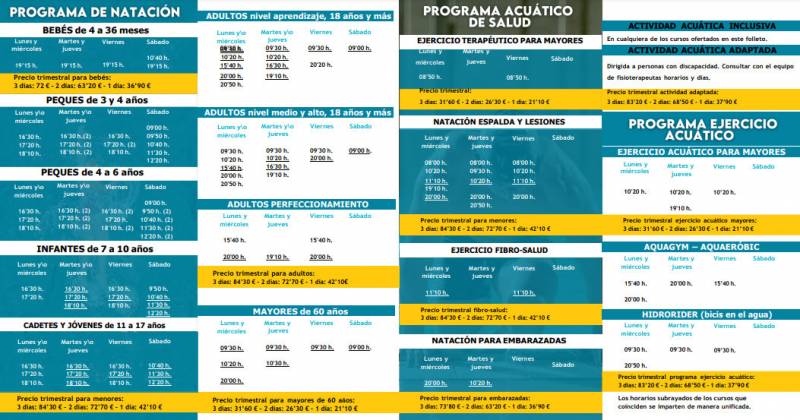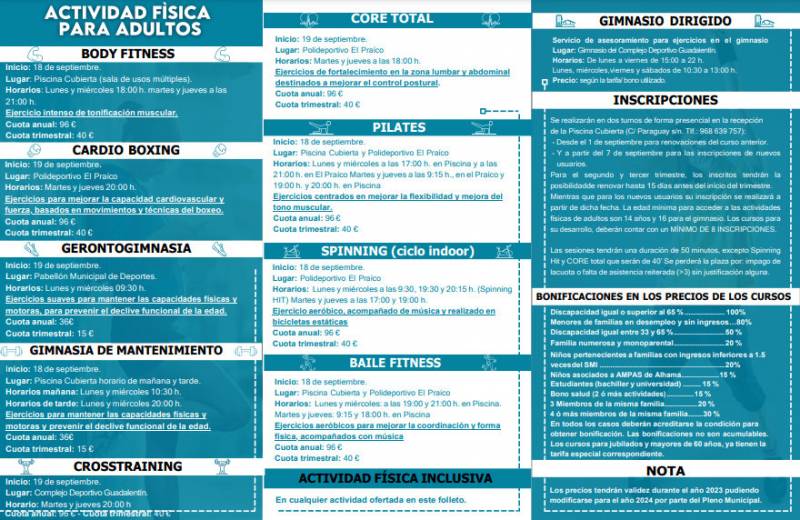 For more local events, news and visiting information go to the home page of Alhama Today.
article_detail
Address
Tourist Office Alhama de Murcia, Plaza Constitucion. Frente Auditorio, nº 10, 30840, ALHAMA DE MURCIA
Tel: 968 633 512

Oficina de Turismo de Alhama de Murcia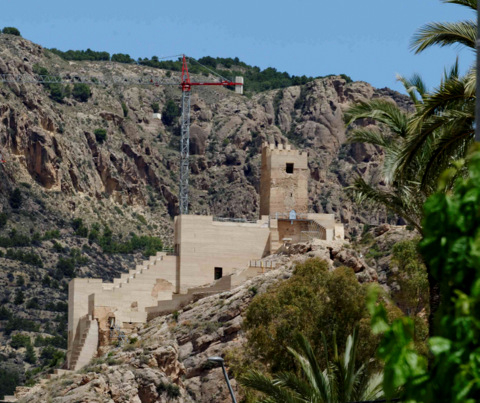 Alhama de Murcia Tourist information office is located on the edge of the Plaza de la Constitución, just a few metres away from the underground car park and the Town hall of Alhama de Murcia.
The tourist office offers free guided audiotours in English which take visitors around the historical sites of interest in Alhama. These be loaned at any time, although allow an hour and a half to complete the tour, and when loaning the audio equipment visitors are asked to leave passports or ID cards with the tourist office.
The office also carries a full range of leaflets for the archaeological museum of Los Baños, which is built around the historic spa which gives Alhama its name, and the mountains of Sierra Espuña, which is also an important area within the municipality of Alhama. Areas such as El Berro and Gebas have a number of interesting routes which can be followed and there are several picnic areas and good walking routes within the Sierra Espuña natural park.
The tourist office also carries leaflets for the many cultural events and fiestas which take place in Alhama throughout the year, including Los Mayos, Semana Santa, Christmas,the Romería of La Candelaria and the Auto de los Reyes Magos in El Berro.
Opening Hours
Winter (September 16 – May 31)
Tuesday to Friday: 9am-2pm and 4.30pm-7.30pm
Saturdays: 10am-1pm
Sundays and Mondays: closed
Summer (June 1 to September 15)
Tuesday to Friday: 9.30am-2.30pm
Saturdays: 10am-1pm
Sundays and Mondays: closed
For more local information, including news and forthcoming events, visit the home page of Alhama Today.
article_detail
Contact Murcia Today: Editorial 966 260 896 / Office 968 018 268